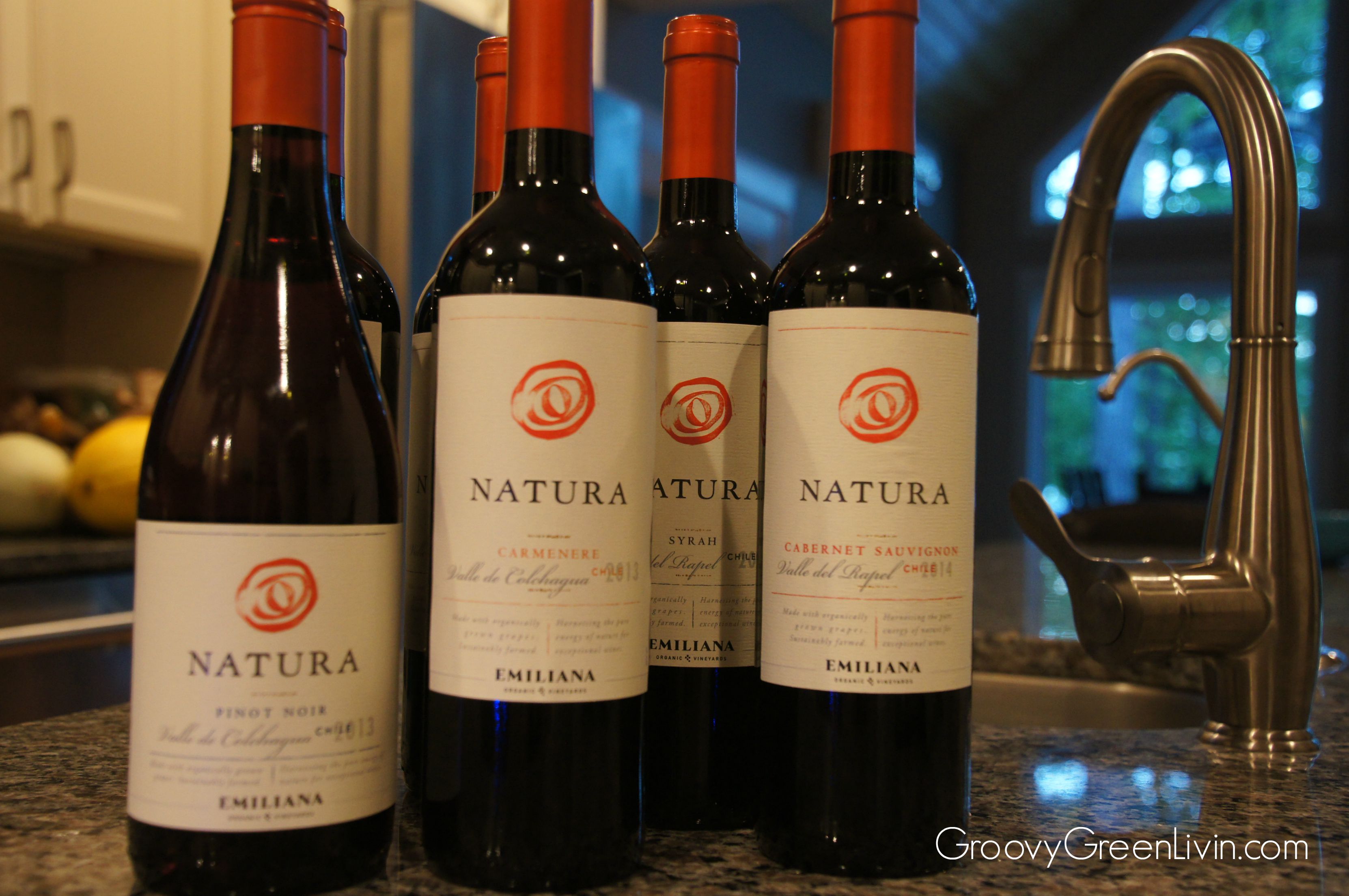 I'm always sad to see summer go and this year for some reason I'm really feeling it. To help ease back into the reality of school, work and the change of seasons, Natura wine sent me six bottles of wine to sample.
Of course I needed a few friends to help out.
Natura wine is a natural wine coming from organically farmed vineyards in the valleys of Chile. 
What is organic wine?
Before sharing my thoughts on this delicious and relatively inexpensive wine I wanted to clear up a bit of confusion about organic wines in general.
If wine is made in the US and it contains added sulphites (an additive used to prevent spoilage) it must contain these words on the bottle label: "Contains Sulfites". Some winemakers will add sulfites to prevent wine from oxidizing and spoiling quickly. Have you seen that wording on your wine bottles? Take a look next time you have a glass. It's surprising to me that the US is one of the only countries (along with Australia) that requires bottles be labeled if a wine contains sulphites. If only the US could do the same with the labeling of GMOs.
There is no such thing as a 100% sulfite-free wine. Sulfites develop naturally as a by-product of fermentaton in small amounts. Sulfites might not be added, but all wine, beer and cheese contain some natural sulfites.
Organic wine in the US cannot contain added sulphites. The wine may have naturally occurring sulfites, but the total sulfite level must be less than 20 parts per million.
In Europe and Canada organic wine is made from organically grown grapes and it may contain added sulfites.
Review of Natura Wines
Natura wines fall into an interesting category. The wine is produced in Chile and is made from organically grown grapes, grown with no synthetic pesticides, herbicides, fungicides or chemical or sewage sludge-based fertilizers. However, a small amount of sulfites have been added to increase the wine's shelf life and help prevent spoilage. Since sulphites have been added to Natura wine it cannot be considered organic wine in the U.S. The U.S. is the only country that doesn't consider Natura Wine organic (see above for explanation).
Overall, the wine was delicious. It was well received by our friends and family, who ended up sharing the six bottles with us (over several evenings!). The Natura collection features seven types of wine, three whites and four reds, all produced from hand-picked, organic grapes, harvested from certified organic vineyards in the prime growing regions of Chile's Central Valley.
After trying all flavors the group decided that the favorite was the Pinot Noir with the Cabernet Savignon coming in a close second.
The Pinot Noir is a bright red wine with berry undertones. It was simply delicious. We had a large group of friends over and enjoyed it with chicken, hamburgers and other food off the barbecue.
The Cabernet Savignon, from Rapel Valley (one of Chile's best known wine regions) is a beautiful red color, with a slight strawberry aroma. This was my personal favorite.
If you're wondering where to find Natura wine enter your zip code HERE. Most bottles are in the $10.00 range. Not bad for wine made with organic grapes.
Do you have a favorite organic wine?
---
P.S. If you liked this post you might enjoy our Groovy Green Livin Newsletter. Receive new posts and special opportunities delivered right to your inbox! Sign up HERE.
---
Disclosure: I was sent 6 bottles of Natura wine for sampling.  As always, all opinions are my very own.