It's been a rough few days for many of us while we try to process the results of last week's election. Thank you to all who reached out to share your feelings and concerns. It's times like this that reinforce why this amazing community is so valuable.
Amidst all the turmoil in the world right now, it's comforting to know that there are many organizations out there continuing to do important work.
Safer Chemicals Healthy Families is one of those organizations that continues to chip away at our broken system. I've been working closely with them since the launch of their Mind the Store Campaign in 2013. Together we've been reaching out to the nation's top 10 retailers to ask them to stop carrying the Hazardous 100+ toxic chemicals. These toxic chemicals have been linked to cancer, infertility, learning and developmental disabilities, behavioral problems,obesity, diabetes, and asthma.
New report released gives Amazon and other retailers failing grades for not having a chemical policy in place
Safer Chemicals Healthy Families released a new report today, "Who's Minding the Store? — A Report Card on Retailer Actions to Eliminate Toxic Chemicals," showing that some of the nation's biggest retailers have cracked down on toxic chemicals in their products while others are dragging their feet.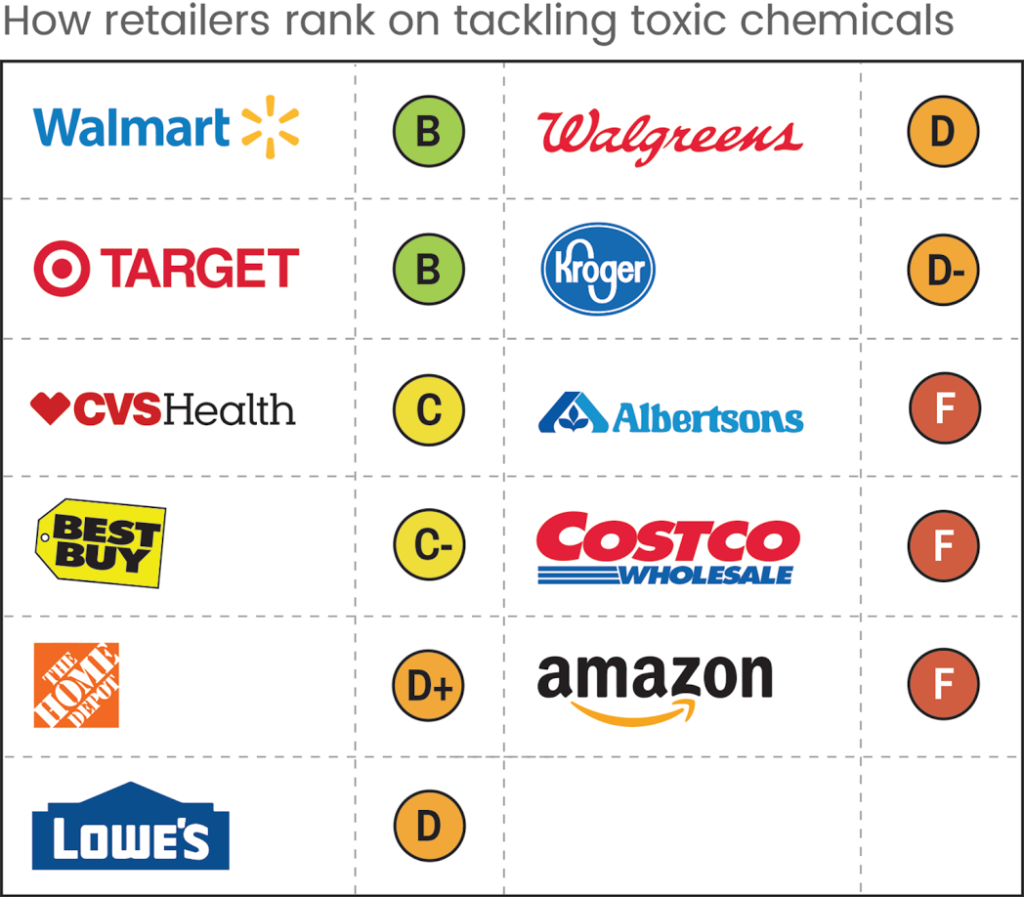 Major U.S. retailers earned grades ranging from B for good progress to F for failing to develop and make public even basic safer chemical policies.  The average grade was a D+, which is not something to be proud of. These stores have some work to do to meet rising consumer demand for safer products.
The top three retailers were Walmart, Target, and CVS Health. Each has made meaningful progress toward safer chemicals and products. Meanwhile, other large retailers remain serious laggards. Amazon, Costco, and Albertsons all earned failing grades.  
Amazon?! Costco?! These are stores that many of us use on a regular basis. As Amazon continues to grow and expand it's surprising that they don't seem to care about the health of their customers. 
Big retailers cracking down on toxic chemicals BUT too many lag behind. #MindTheStore
Click To Tweet
Retailers were graded on a scale of 0 to 130 points and then given a letter grade.
Here's a list of the retailers with their letter and number grades, ranked from the highest to the lowest graded companies:
Walmart Stores (Walmart and Sam's Club):  B (78.5 points)

Target: B (76.5)

CVS Health: C (53)

Best Buy: C- (41)

The Home Depot: D+ (35.5)

Lowe's: D (29.5)

Walgreens: D (29.5)

Kroger: D- (15.5)

Albertsons: F (12.5)

Costco: F (9.5)

Amazon: F (7.5)
Target continues to rock! Over the past year they've made significant improvements made to their chemical policy.  The company: 1) Added cosmetics to their policy; 2) Expanded its list of chemicals to include chemicals banned in cosmetics in the European Union and Canada; 3) Significantly improved its evaluation of suppliers' transparency practices; and 4) Added new criteria pushing suppliers to publicly disclose their fragrance palette, allergens in fragrance, and nanomaterials.
CVS also rocks! The report card also reveals for the first time that CVS Health has become the first pharmacy chain in the country to become a signatory to the Chemical Footprint Project.  Additionally, CVS Health has pledged to publicly disclose its restricted list of chemicals in 2017.  Best Buy also disclosed it is developing a safer chemicals policy, restricted substance list, and manufacturing restricted substance list, to drive harmful chemicals out of electronics.
This holiday season take the time to educate yourself before you shop. Give a little love to those retailers who are working towards safer products on the shelves in their stores.
Will you join me and tell big retailers that it's time to eliminate toxic chemicals?
---
P.S. If you liked this post you might enjoy our FREE Groovy Green Livin Newsletter. Receive new posts and special opportunities delivered right to your inbox! Sign up HERE.
---